About SmokePing
Graphics
SmokePing is a deluxe latency measurement tool. It can measure, store and display latency, latency distribution and packet loss. SmokePing uses RRDtool to maintain a longterm data-store and to draw pretty graphs, giving up to the minute information on the state of each network connection.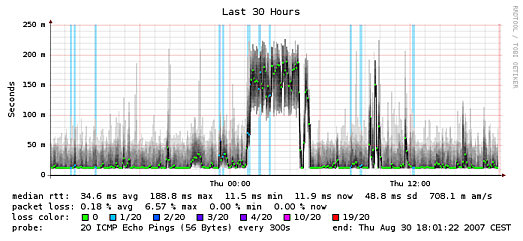 New in Version 2.2
Ajax based ineractive graph zooming.

Click on any graph in detail mode and use the mouse to mark your area of interest in navigator graph. See here.

Multi Target Graphs

Show information from multiple targts in a graph. See here..

Master/Slave setup for multi source smokeping deployments.

With one central Smokeping Master node, you can run a series of Slave nodes, taking their configuration from the master. This allows you to ping a single target from multiple locations. See here.

Standard Deviation

The standard deviation is now used in several places to give a number for the variation in round trip times as depicted by the smoke.
Main Features
Measures latency as well as latency variation.
Wide variety of probes, ranging from simple ping to web requests and custom protocols.
Advanced alarm system, triggering on configurable 'latency patterns'.
Master/slave deployment model to run measurments from multiple sources in parallel.
Ajax based graph navigation.
Chart mode, to show the most interesting graphs first
Plug-able probes, alarms (matchers) and charting function.
Written in perl for easy enhancability.
Fully documented.